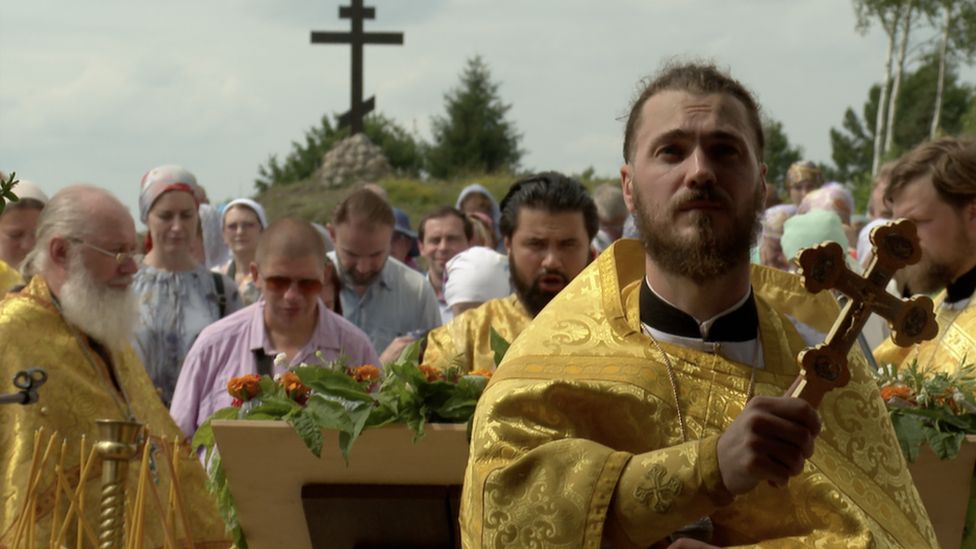 In the village of Vybuty, a large crowd has gathered outside a church. People are queuing up to kiss the icon of a saint.
An Orthodox priest in a gold embroidered vestment chants a prayer for Russia: "For our blessed country, its rulers and its army."
In the congregation are Russian servicemen. They cross themselves with three fingers according to the Orthodox tradition.
Ukraine isn't mentioned in the mass. But it's on people's minds.
"In our family, we have a lot of young men who are serving there," one of the worshippers, Ludmila, tells me. "God won't abandon them. They will definitely return home."
Many Russian soldiers haven't.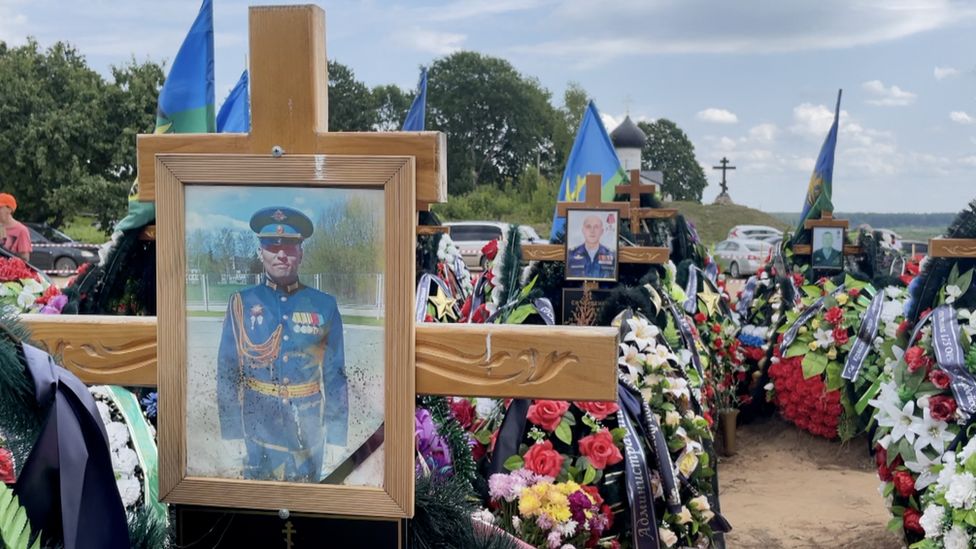 Just a few metres away, in the village cemetery, there are two dozen fresh graves of Russian paratroopers.
The burial ground is carpeted with wreaths, while banners of the men's regiment flutter in the wind. Attached to wooden crosses are plaques with names and dates of death.
All these soldiers were killed after 24 February: the day Russia launched its invasion of Ukraine.
The scene is a stark reminder of the "significant losses" the Kremlin admits Russia has suffered in Ukraine.
The invasion was President Vladimir Putin's idea. He ordered it. It is his "special military operation".
Despite the thousands of civilian deaths in Ukraine, the Kremlin leader has displayed no remorse, no hint of regret over his decision to attack a sovereign, independent nation.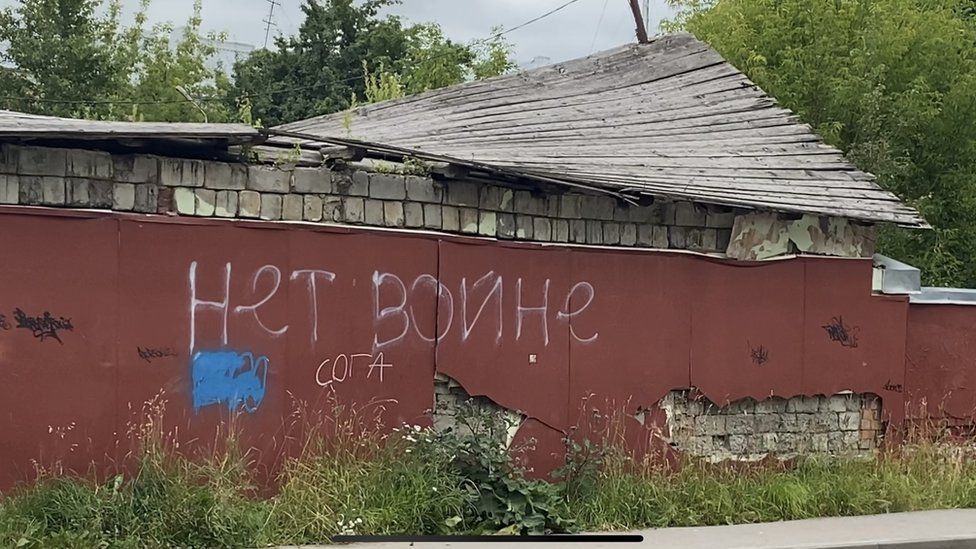 But what of the Russian public? More than five months on, do Russians believe their president took the right decision?
In the big cities, such as Moscow and St Petersburg, it's not uncommon to hear people criticise the Kremlin's "special operation".
But I'm a long way from the capital after a nine-hour drive north-west of Moscow.
I leave the village and head to the regional capital, Pskov. As I drive past a military base, the slogan on the poster outside catches my eye: "The borders of Russia never end!"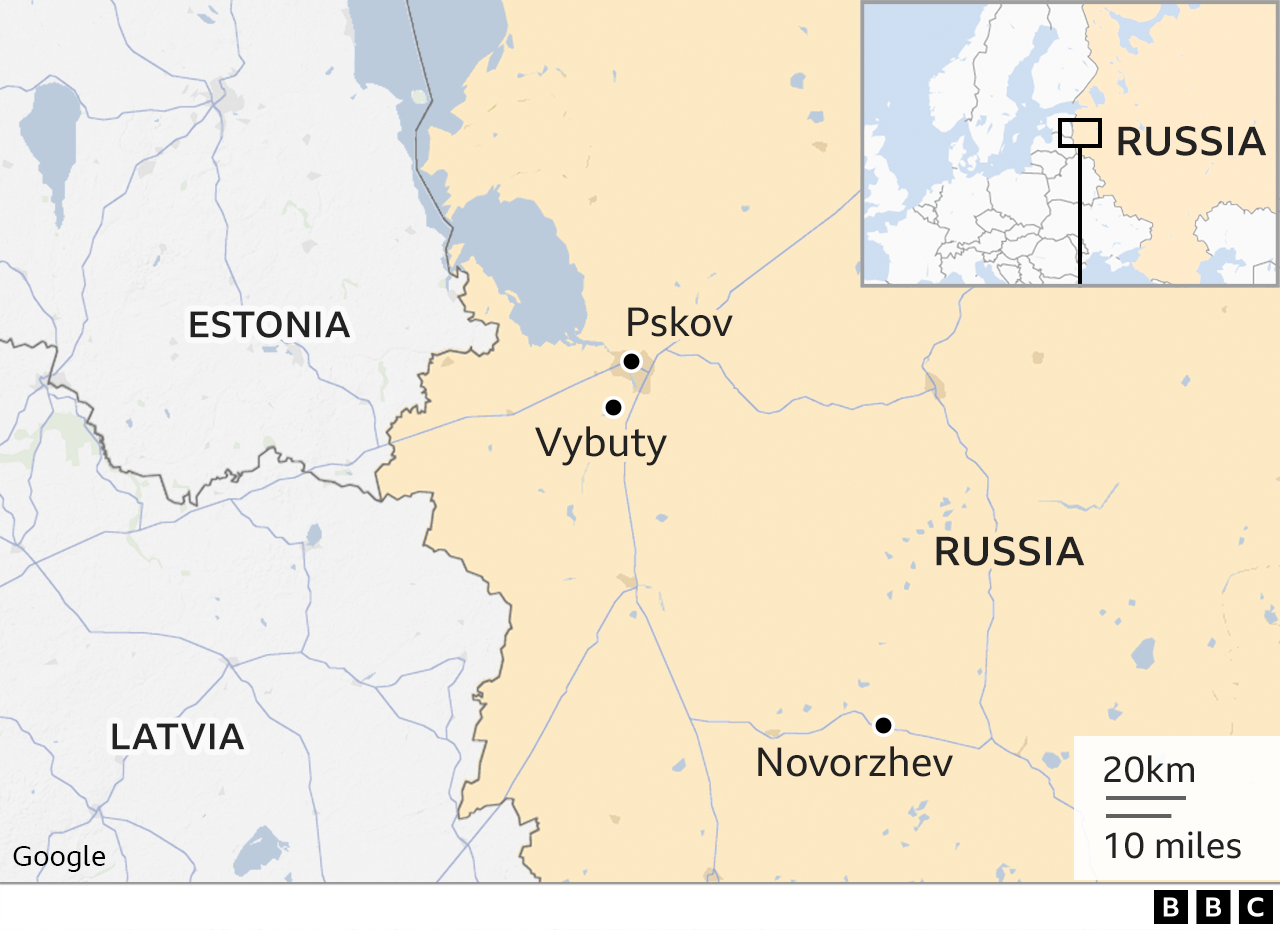 Pskov is a medieval fortress town which, in a thousand years, has seen many battles.
With its high walls and watchtowers, the ancient citadel is curiously topical and symbolic. This is how the Kremlin portrays modern Russia: as a besieged fortress threatened by the West.
In town, at a rundown Soviet era sports stadium, they're re-enacting a battle from World War Two.
People posing as Russian partisans are involved in a shoot-out with a group dressed as German Nazis. A mock-up of a Russian village is in flames.
The Kremlin likens what is happening in Ukraine now to the Second World War. It insists that today, once again, Russians are victims, heroes, liberators: the good guys fighting Nazis and fascists.
It is a false image. A parallel reality. But many here believe it.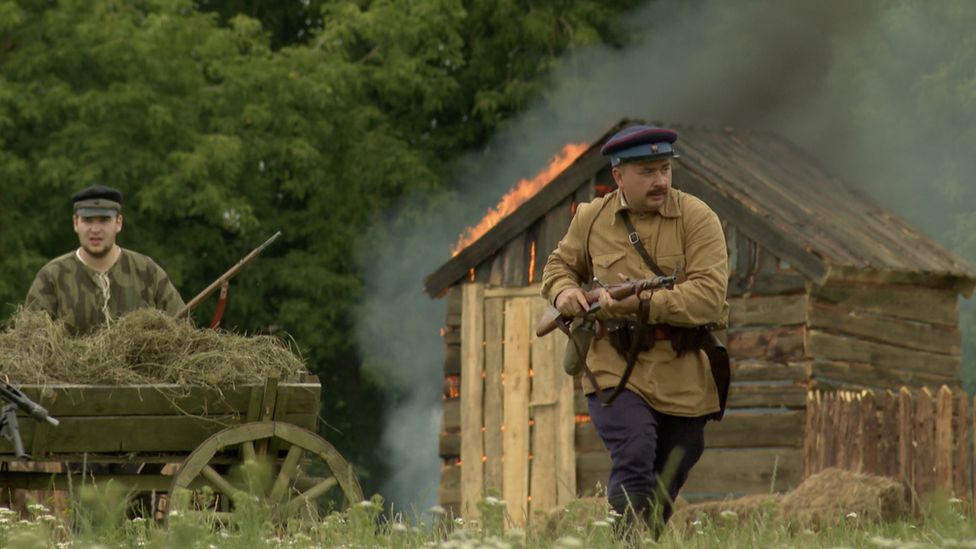 "My youngest child says that Russians always win. That Russia will always be victorious. I hope that's true," says one of the spectators, Tatyana. "The past teaches us that people gave their lives so that we could live. That's why we must support our soldiers now."
The event organisers do not support us asking questions about Ukraine. Just as I'm about to interview another spectator, the re-enactment director interrupts us. He smiles awkwardly.
"Thank you for coming," he says. "I respect you. But I must ask you leave. This is a complex part of the country."
It is also one of the poorest.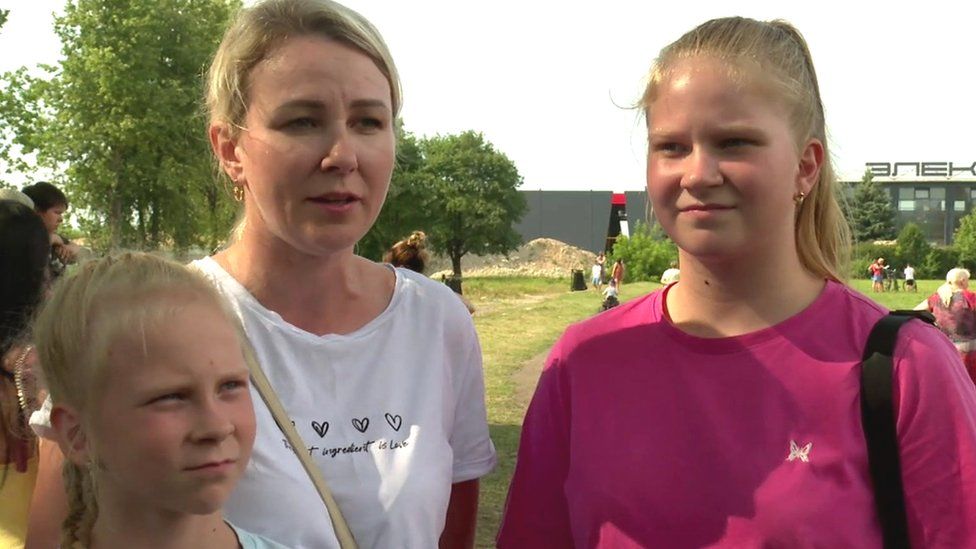 I continue my journey through Pskov region and drive to Novorzhev. Russia may be an energy superpower, but this town has no gas supply - it's still being built.
To heat their homes, many people here burn firewood. One apartment block I visit has no running water. The residents bring it in buckets from a well.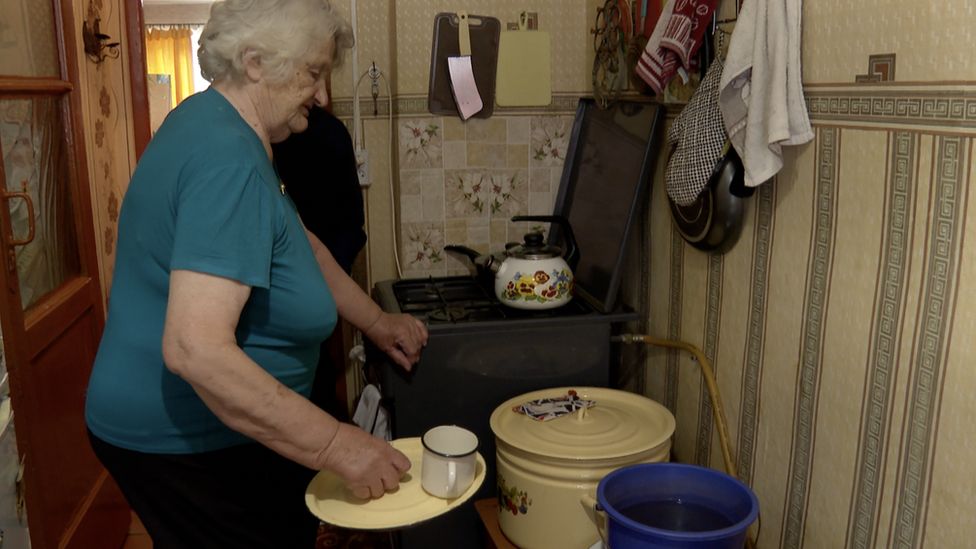 At the local market, I meet senior citizen Natalya Sergeyevna.
More than two decades of Vladimir Putin in power have not given her a comfortable retirement. To supplement her pension, Natalya sells everything she grows at home: from blackberries to potted plants.
At the age of 84, Natalya still toils in the garden, planting and harvesting potatoes to raise extra cash. She doesn't blame her president, though.
"I like Putin and what he's doing," she tells me. "I feel sorry for him. He gets no rest. As for America and all those other troublemakers, they just want to break Russia into parts. They don't understand that they mustn't try to humiliate us."
I have heard the criticisms Natalya makes about Ukraine, the US and the West many times before on Russian TV. It's hardly surprising.
In Russia, television remains the key tool for shaping public opinion. And since the Kremlin controls TV, it pretty much controls the narrative and the messaging in the country. Especially since independent media in Russia have been silenced.
The result: the Russian public is receiving a highly filtered, distorted picture of what is happening in Ukraine. But state propaganda doesn't work in isolation.
Like Natalya Sergeyevna's garden, which produces a wealth of berries, fruits and vegetables, in Russia there is a fertile soil for the idea of Russia as an empire, a superpower, dictating to its neighbours and taking on the West.
The Kremlin knows that its messaging will strike a chord with many here. But striking a chord is one thing. Persuading Russians to join the fight in Ukraine is quite another.
"I support the special military operation. So many of our lads have been killed," says an 18-year-old student in Novorzhev. "If I'm called up, I'll go and fight. But I don't want to sign up."
"It's our duty to fight, if we're enlisted," another student, Konstantin, tells me. "Otherwise I won't go near there. Not for money, not for anything. Family's more important."
The Kremlin may dominate the information landscape. But there are limits to its powers of persuasion.